PERU FIRE DEPARTMENT
SERVING THE COMMUNITY SINCE 1843
WELCOME FROM THE CHIEF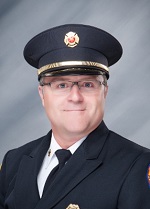 ON BEHALF OF THE DEDICATED FIREFIGHTERS OF THE PERU FIRE DEPARTMENT, I WELCOME YOU TO OUR WEBSITE.
We thank you for taking the opportunity to learn more about our department and the many services we provide.
I have been proudly serving this great community, since 1985, as a member of the Peru Fire Department. I was appointed Chief in 2010, and prior to that I served as an Assistant Chief, Code Enforcement Division Captain, Code Enforcement Inspector, Arson Division Captain, Arson Investigator, Swift Water Rescue, EMT, and Pension Board Secretary. I take great pride in the Peru Fire Department. I continue to enjoy coming to work to serve the great city of Peru, IN.
Chris Betzner, Fire Chief