Peru Fire Department
Welcome to the Peru Fire Department website!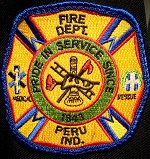 Pride in Service since 1843!
The Peru Fire Department has a proud history of serving our community. In 2018, we celebrated our 175th Anniversary. It is our honor and privilege to serve the citizens of Peru, and also those visiting our city.
The Peru Fire Department provides emergency medical, fire, rescue, water rescue, and fire prevention services. We have an ISO rating of 3, and are proud to have maintained that rating. We are always looking for ways to improve our services, and improve safety throughout our department.
Located on the right hand side of this page you can find more information. Thank you for wanting to learn about our department. If you would like further information please give us a call 765-472-2410