Department Information
The Peru Police Department is located in Peru, Indiana. Located in Miami County, Peru is the county seat.
The PPD serves a 5.181 square mile area of 11,155 citizens (2013 census).
The Peru Police Department, which began in 1912, is made up of 29 Officers, two clerical members and two K9 Units.
Our Department is comprised of:
Chief of Police

Assistant Chief of Police

Captain of Patrol and Training

Captain of the Detective Division

Four Lieutenants

Three Sergeants

19 Patrol Officers
All of our Police Officers are full-time sworn Officers. They have graduated the 15-week Basic Academy Training at the Indiana Law Enforcement Academy in Plainfield, Indiana. Our Officers must also complete in intense 14-week Field Training Officer Program.
Our Police Department has the following specialty areas:
Three Officer Detective Division

Two K9 Handlers

Bike Patrol
Each year our Department handles over 17,000 calls for service. Our Officers are highly-trained and motivated to keeping our city a safe place to live and visit.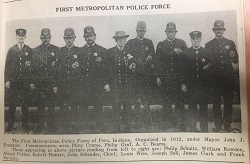 Peru Police Department, 1912