City Mayor's Office
Mayor Gabriel Greer was born in Peru, and grew up a few miles north of Peru in the small town of Mexico.
When he was seven years old, he began to work with his father, helping him with the family's small business,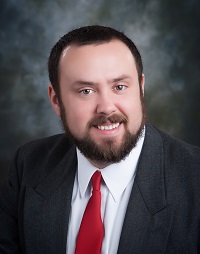 "Greer's Electric Service." While working on a utility pole in 1990, the pole collapsed and fell to the ground with his father strapped to it. He suffered many injuries, and was bed-ridden for over a year without any health insurance or income.
Everyone in Mayor Greer's family got a job to help with the bills, including Mayor Greer himself, who took over his older brother's paper route at the age of nine. He's been gainfully employed ever since.
After graduating from North Miami High School, Mayor Greer attended Indiana University Kokomo for a year, and then transferred to Ball State, where he studies journalism and history. He also had the opportunity to study abroad for a semester in London, where he attended Westminster College.
After college, he started a small-town paper with a small group of journalism students from Ball State. Feeling inspired to contribute back to his home community, Mayor Greer moved back to Peru, where he immediately began to look for ways to make a positive impact on his home town.
Mayor Greer purchased a home on West 5th Street, got married to his high school sweetheart and has two young daughters.
He worked at Village Pools in the summers during his college years and shortly thereafter, and in 2013, Mayor Greer became a Peru City licensed Electrician and started a small contracting business.
Before that, in 2011, Mayor Greer was elected to the Peru City Council, where he earned the right to represent the First District. While serving as a City Councilman, he served on the Tax Incentive/Abatement Review Committee, the Complete Streets Committee, and served as liaison to the Peru Fire Department, Peru Animal Control Department, as well as Peru elected officials.
During the 2015 mayoral election, Mayor Greer vowed to provide a fresh start for the Peru Police Department. Upon taking office, he appointed Mike Meeks as Police Chief, and the morale and productivity turnarounds have been dramatic.
Peru was already ranked the 54th safest city in the state of Indiana in a study conducted by Safewise, which uses FBI crime statistics to rank the state's cities and towns. But in 2016, arrests are up 48 percent, offenses from arrests are up 67 percent, and total tickets written from those arrests are up 82 percent.
In addition, the PPD has been able to revive its K-9 program with the help of business and private donations.
Mayor Greer also vowed to be an ally for new business and entrepreneurs to help rebuild Peru's business base. In his first nine months, business owners throughout the city have invested hundreds of thousands of dollars in façade improvements to their facilities, benefitting from the city's Façade Improvement, which has provided new awnings for numerous business owners' buildings.
And with a renewed attention to detail, the city is attracting new businesses which will help fill the holes we currently have in our market for retail and fast-casual dining.
Mayor Greer is also committed to keeping Peru affordable for its residents. Along with City Clerk-Treasurer Tish Soldi, he worked with financial consultants at Umbaugh to help save the city from going over an impending financial cliff with its budget, setting the city on a five-year budgetary plan which will return Peru to a state of financial health.
Mayor Greer took office on January 1, 2016. The mayor is elected for a 4 year term and is not subject to term limits. A person is eligible to serve as mayor if he or she has resided in the city for one year prior to the election.

The government of a city is divided between the mayor and the city council. The mayor exercises the executive authority of the city and is primarily concerned with its overall and day-to-day operations.

Duties of the mayor include enforcing the ordinances of the city and the statutes of the state, providing information and recommendations to the city council, supervising and filling vacancies of city offices, ensuring efficient government of the city, signing all bonds, deeds and contracts for the city and the authority to approve or veto ordinances, orders and resolutions.

Mayors are also empowered to appoint heads of executive departments and board members, conduct monthly meetings of department heads, adopt rules and regulations for individual departments and conduct marriage ceremonies.
---
Josh Sigler is Mayor Greer's Administrative Assistant. He may be reached at 765-472-2400 or by email at jsigler@cityofperu.org.
Recent
News
Events


Useful
Links
Contact Us
Phone:

(765) 472-2400

Fax:

(765) 472-5815
Office Hours:
M, Tues., Thur., Fri. 8:00 a.m. - 4:00 p.m.
Wed. 8:00 a.m. - 12:00 p.m.