West City Park
West City Park consists of 33 acres in between Park Avenue and West Canal Street.
There is a walking trail along the Wabash River with two overlook decks.
This park opened in 1918 and is primarily used by the Youth Baseball/Softball Programs.
Amenities: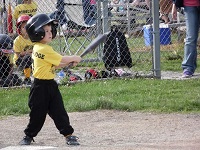 Baseball Fields: Five Little League Baseball Fields
Softball Fields: Five Girl's Softball Fields
Play Fields: Open green spaces
Parking: Ample Parking, six handicap parking spaces
Restrooms: Three, centrally located
Shelters (may be reserved): Two
Picnic Tables: Located in shelters and throughout the park
Playgrounds: Two
Hours: Dawn to dusk, unless games are scheduled
---
Shelter 7
Rents for $20. West City Park by girl's softball field. Equipped with electric and lights and a grill. Restrooms & playground onsite.
Shelter 11
Rents for $20/day. At West City Park near the Little League Field. No electric at this shelter. Restrooms & playground onsite.